Matt Leblanc has played various characters in movies as well as on Television, but undoubtedly he is most remembered and loved as Joey Tribbiani from Friends. Joey may not be the most intelligent character in Friends, but he is surely the funniest. Known for his catchphrase "How youuu doin'?" and identified by his habit to not share food, Joey unquestionably gave us the most amusing moments during the journey of ten seasons. Filled with absurdity and humour, Matt Leblanc brought Joey to life on-screen impeccably. 
It's his birthday and he turns 54 today. After the globally recognised series 'Friends', Matt also appeared in the spin-off named 'Joey.' 
After it, the American actor went on a hiatus and returned in an acclaimed series 'Episodes' in the lead role after five years. He also played the main role in another sitcom titled 'Man with a Plan.' ( Do not forget to give these series a watch if you are missing Joey Tribbiani) 
On his birthday, we have compiled the 8 funniest moments of Joey Tribbiani from friends that are bound to carry you on a nostalgic ride
Joey receives a chance to audition for a role. According to his resume, Joey can speak French fluently, which is compelled to play the part. However, we all know how polished Joey is in his French, and Phoebe, who can speak fluently, teaches Joey.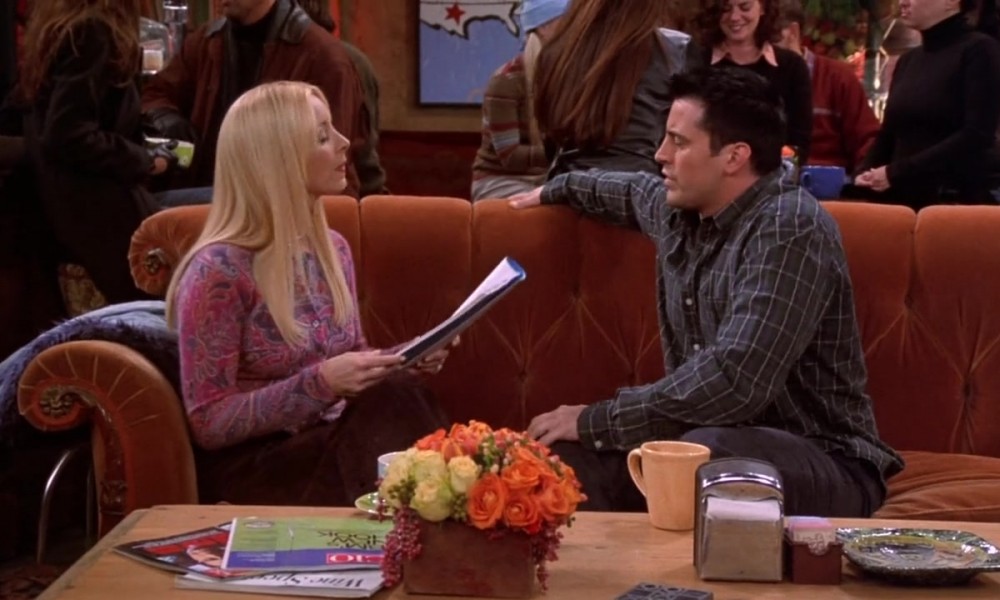 What ensues is a hilarious learning session where Joey is left blabbering. Every time Phoebe asks him to say "je m'appelle Claude", he ends up saying hogwash. Their scenes together are totally giddy and hysterical. 
Joey's letter of recommendation
When Monica and Chandler plan on adopting a child, they are asked to present a letter of recommendation. They ask Rachel, but when Joey protests over it, they relent. Afraid of his poor vocabulary, Ross's fearful Joey is advised to use a thesaurus to sound intellectual.
Joey completes the letter in a sophisticated manner to an extent where he changes his own name to Baby Kangaroo Tribbiani. What a smart way to use a dictionary, our man changed every single word using the thesaurus.
Joey's attempt to buy a fridge
In season six, Joey's thirty-year-old fridge stops working. Trying out-of-the-ordinary ways to get a new fridge, Joey attempts to lure his friends to buy him one. After failing to get the amount from Rachel, his next target is Chandler.
Joey sets up the scene in his classic way– the distressed Joey is eating ice cream next to a table crammed with empty packets. When Chandler enters the room, he is perplexed. Joey explains that the fridge was not working due to which, sadly, he had to eat everything. However, he was unable to entice even Chandler. Tired of his dull efforts, he shoves Ross towards the fridge and alleges that he broke it. 
Probably one of the funniest moments, Joey explains to Rachel what a moo point is. Imagine a cow giving an opinion, it just doesn't matter, right? That is a moo point!
And a few minutes later, he gets irritated when Rachel does not accept his advice. When the package is this pretty (funny) who cares what is inside, right!! 
Even if you have not watched friends, you must remember the 'Joey doesn't share food' dialogue. It was when Joey was on a date, and she ate some of his fries.
To demonstrate his retaliation, he ate all of her chocolate desserts when she went out to attend a call.
If you get fits of laughter, we apologise beforehand. Joey is known for his love of food and it doesn't matter where the food is located. Chandler and Rachel were eating cheesecake that was literally toppled on the floor.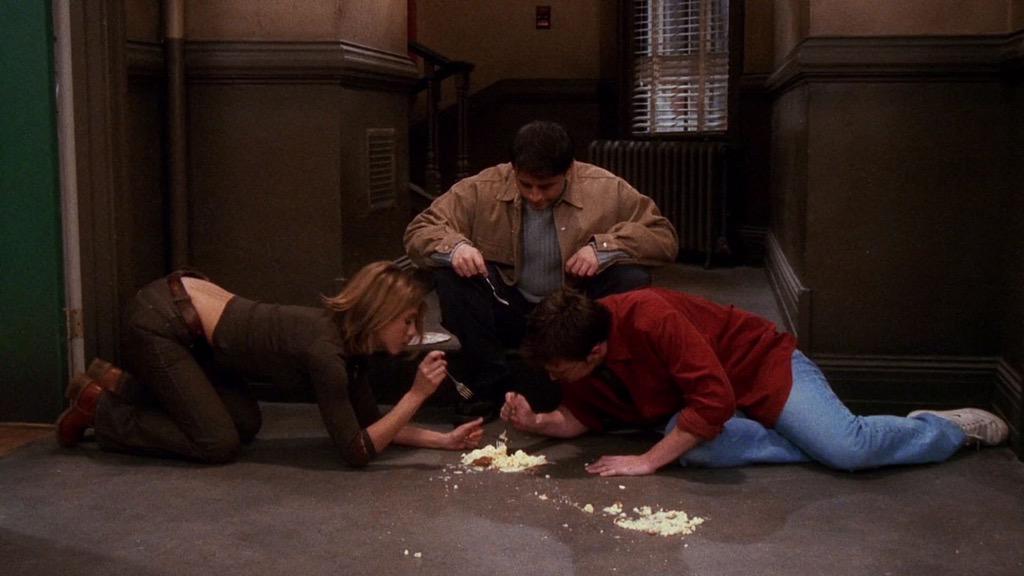 A normal person would show an expression of disgust. But our joey comfortably took a fork out of his jacket (he is always ready to find random food on the floor) and continued eating with the two of them! 
When you have Joey on your team, there is a slight likelihood that you will win but a great chance of bringing some entertainment. When he is called on a pyramid gameshow, something similar ensues.
It becomes especially infuriating for his team member when he says that a ghost can be kept in a fridge. But anyhow, we were blessed with some funny moments! 
What Mario is not telling you
Joey comes across a girl at the subway whom he knows as his colleague from his previous job. He approaches the girl in his typical charming manner and asks her out. But as they are walking, she sees something and suddenly her mind changes. She walks away. When the camera is turned, the viewers see what the girl saw, and we surely cannot blame her.
The girl saw Joey's advertisement saying, "What Mario is not telling you", which you all know directs to what disease.
Also Read: Top 11 Movies To Watch On Zee5